Cleaning Tips, Guides & Resources
The Definitive Spring Cleaning Guide
When springtime is around the corner, homeowners across Sydney gear up for the biggest cleaning challenge of the year – spring cleaning!
As a mandatory cleaning process in many homes and for good reason, spring cleaning is the only time families disrupt their entire household to ensure that every inch of the house is deep cleaned and neatly organised thereafter. The end result can be truly remarkable, giving your home a new lease of life and perhaps, even its members! Of course, getting to the end means taking a couple of days off (if not a week) to spring clean your entire home. So, how do you do this without forgetting a single task? Well, a complete spring-cleaning checklist is your best bet!
Fortunately, MaidForYou is sharing the ultimate checklist to spring clean your home in 2022! Read on!
Front Porch
Spring cleaning your home must include outdoor areas such as the garage and porch because they are essentially a part of the house. Hence, starting with the front porch is a great way to get into 'cleaning mode' before you tackle the inside of your home. Moreover, a lot of dirt and debris gets blown in or tracked
Remove cobwebs
Dust light fixtures
Clean plant pots
Wipe down walls and wall fixtures
Wipe down balustrades, railings, etc
Clean exterior windows
Wipe front door exterior, doorknob, and door frame
Sweep and mop the floor
Replace or launder welcome mat
Garage
It's hard to resist storing random items in the garage that otherwise take up space in your house. Unfortunately, for those that give into this temptation, things are usually kept in a haphazard manner which, in turn, leaves the garage messy and near impossible to clean efficiently. Not to mention the dried leaves, dirt and debris that gets blown in when the garage door is left open. In fact, even when the space is maintained to some extent or frequently organised and cleaned, there will always be a couple things or areas that could use some attention. Well, spring cleaning is the best time to give your garage the deep clean it most likely needs!
Empty the garage or move things around to check for black mould
Clean the ceiling, walls and corners
Clean window(s) – interiors and exteriors
Dust light fixtures
Wipe door frames and knobs
Wipe switchboard
Clean the garage door – interior and exterior
Get rid of junk, broken items or unused items
Reorganise garage contents
Sweep and spot clean floor to remove stains
Entryway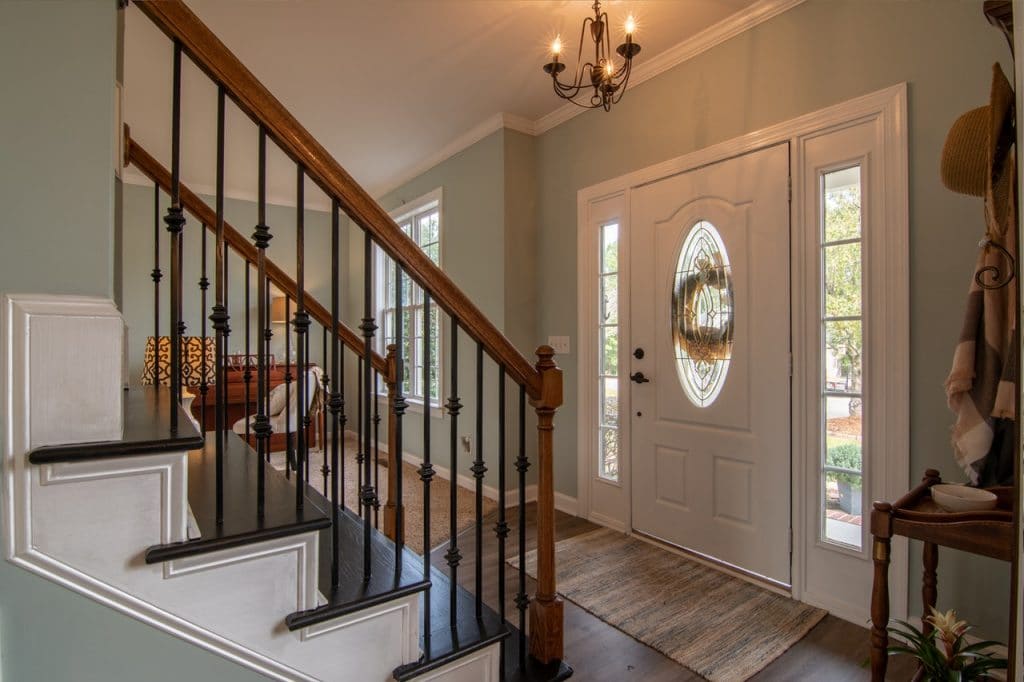 Some entryways are relatively small and may consist of only a console table and an ornament or two; larger hallways, on the other hand, generally have a lot more going on in terms of decoration. Regardless of what your entryway looks like, it is safe to say that this particular space of your home is often overlooked while cleaning the rest of the house. Merely wiping the console table and running a vacuum cleaner over the floor is not enough to remove dirt and dust that gets dragged in on a daily basis so, this spring cleaning, give your entry a deep cleaning, too!
Clean the ceiling
Wipe or vacuum walls, corners, and baseboards
Wipe the front door, door frame and knob/handle
Clean window interiors and blinds
Clean wall-mounted fixtures (mirror, artwork, keyholder, etc)
Wipe console table
Tidy up coat rack
Clean and organise shoe rack
Clean or launder entry rug
Sweep/vacuum and mop the floor
Attic
You probably will not remember the last time you cleaned the attic or even went up there to look for something. If that is true, this storage space above your ceiling is bound to be covered in dust and cobwebs while piles of precious memories and personal belongings of sentimental value lie underneath them. Attic cleaning is something homeowners need to include in their spring cleaning because it is very unlikely to be considered during the rest of the year. Moreover, getting your attic cleaned and organised will help make room to store other things you stumble upon when deep cleaning the rest of your house.
Remove dust and cobwebs from the roof and walls
Wipe down and wash the window(s)
Dust all boxes and items stored in the room
Sort through belongings; donate or discard unwanted items
Sweep and mop the floor
Reorganise the space
Laundry Room
The laundry room is typically one of those concealed places in a house that guests rarely get a glimpse of; perhaps, this is one of the reasons why they are left untidy and not cleaned very often. Unfortunately, lack of cleaning can lead to mould growth and musty odours because of moisture and humidity in the room. Considering the fact that fresh laundry comes out of this room, keeping it clean and fresh must be prioritised!
Clean the ceiling + fixtures
Clean exhaust fan/air vents
Dust tops of cabinets and shelves; wipe down exteriors
Wipe down walls, baseboards, and switchboards
Wipe down the door, door frame and knob/handle
Clean behind washer and drier; wipe exteriors
Wipe down window frame, sill, and blinds
Wash windows
Clean out the lint trap in the drier
Deep clean washing machine and drier
Clean out cabinets and shelves; dispose of expired products and empty bottles
Wipe down counters/tables or furniture in the room
Vacuum and mop the floor
Bedrooms
Regular bedroom cleaning typically covers the basics such as dusting major furniture pieces in the room, vacuuming the floor, and mopping thereafter. This leaves quite a few areas unattended to, therefore, accumulating dust and dirt for weeks or months. Deep cleaning bedrooms is an important part of spring cleaning as most people spend a lot of time in their rooms, not just at night when they go to bed, but during the day as well. In other words, your bedroom should be a clean and sanitary space for the sake of your own health and wellbeing.
Clean the ceiling + fixtures such as fans and lights
Dust the tops of cabinets and the closet
Dust wall decor/ornaments
Declutter and clean bedroom furniture such as desks, bookshelves, dressers, bedside tables, etc
Wipe curtain rods, window frames and blinds
Wash windows
Wipe lampshades and knickknacks
Clean under the bed and other furniture
Sweep/vacuum and mop the floor
Launder bedroom linen including curtains
Get rid of unused clothes and shoes
Reorganise closet, dresser and shoe storage
Kitchen
Daily kitchen cleaning is not uncommon in homes across Sydney; however, these cleaning tasks are merely limited to wiping down a few areas on a daily basis and perhaps, sweeping and mopping the floor. If you look around your kitchen and think about things that are not cleaned as often, you will realise that nearly 70% of the kitchen is overlooked during routine cleaning! Although there is a lot to do, part of spring cleaning your home must include a thorough, deep clean of the kitchen!
Dust the ceiling + fixtures
Dust walls, light fixtures, baseboards, and switchboards
Clean wall-mounted fixtures such as hooks and racks
Clean out and reorganise kitchen cabinets and drawers; get rid of unused items taking up space
Replace shelf liners
Clean kitchen cabinet tops; wipe down exteriors
Sanitise all knobs and handles
Wash windows, wipe down blinds and sill
Scrub backsplash tiles to remove grease and stains
Dispose of expired products from the pantry and refrigerator
Wipe down exteriors of all kitchen appliances
Deep clean appliances – refrigerator and freezer, microwave, oven, oven racks, coffee maker and toaster
Deep clean dishwasher and garbage disposal
Clean the sink
Wipe down counters and tables
Dust miscellaneous kitchen items exposed to dust
Launder rugs
Sweep and mop the floor
Dining Room
In some households, dining rooms are used every day, while others see Sydney-based families gathering in the kitchen and/or living room to share a meal. Regardless of how often your dining room is used, the fact remains the same; dining rooms require deep cleaning from time to time as many areas or furniture pieces are rarely cleaned thoroughly. For example, you may clean the tabletop after every meal but when was the last time you wiped down the legs and chairs? Along with dusty furniture, there are a lot of other things that will require attention when spring cleaning your home.
Declutter surfaces
Clean ceiling, fans and other fixtures
Dust walls, crown moulding, light fixtures, vents and baseboards
Clean wall décor (mirror, artwork, picture frames, etc)
Dust cabinet tops and shelves
Wipe down window frames, blinds and vents
Wash windows
Wipe down buffet table and other furniture
Clean out showcase and/or cabinets; reorganise contents
Wipe down dining table and chairs
Deep clean upholstered dining chairs
Sweep and mop the floor
Living Room
Living rooms – the one room in your house where everyone gathers at some point during the day. It is also a place where you spend most of your time entertaining guests, so for these reasons alone, keeping it neat and tidy is a must. Although the living room is cleaned regularly in order to remove dust from the furniture and dirt and stains from the floor, like other rooms in the house, there are some things that get overlooked or simply require a deeper clean. Well, spring cleaning is meant to take care of that!
Remove cobwebs
Dust ceiling, walls, and baseboards
Sanitise switchboards and door knobs/handles
Clean fan blades
Dust light fixtures and wall fixtures
Dust curtain rods, blinds, and sill
Wash windows
Dust cabinet tops and shelves
Vacuum upholstery; deep clean thereafter
Launder curtains, removable cushion covers and pillows
Clean and polish furniture
Clean behind and underneath furniture
Deep clean carpets/rugs
Wipe down table legs and chairs
Wipe remotes with disinfectant wipes
Dust lampshades and all knickknacks
Vacuum and mop the floor
Home Office
A lot of things in a home office are frequently touched which means bacteria in the room are plenty. Right from the computer to the desk; sanitising your home workspace is important for hygienic reasons while keeping it neat is a proven way to be more productive. The problem with merely cleaning surfaces in a home office is that it leaves a lot of dust and dirt build-up hiding around the place that spring cleaning must tackle. Along with this, it's easy for your office space to become cluttered and disorganised when you are using it on a daily basis; therefore, a thorough clean gives you the opportunity to get things back in order while ridding the space of unwanted items.
Remove cobwebs and dust from ceiling and corners
Dust walls, baseboards, and switchboards
Clean fan blades
Dust light fixtures, frames, and other wall-mounted pieces
Wipe window blinds and sills
Wash windows
Clean the bookshelf and dust books before placing them back
Clean out cabinets and storage spaces; sort through items and reorganise them
Wipe and polish furniture
Dust lampshades and knickknacks
Clean electronics with disinfectant wipes; this includes all computer accessories
Sanitise work desk
Deep clean upholstered furniture
Dust curtain rods and launder curtains
Deep clean carpets/rugs
Vacuum and mop the floor
Bathrooms
On the last day of spring cleaning your entire house, spare an hour or two per bathroom for a thorough, deep clean. As one of the 'germiest' places in the house, daily cleaning and sanitising is important for hygienic reasons, as well as aesthetics! No one wants to take a shower or brush their teeth while looking at a grimy bathroom, hence, surface cleaning in bathrooms daily is not uncommon in Sydney homes. As part of your spring cleaning, however, it's time to take things a few levels up for top to bottom bathroom cleaning!
Dust the top of your medicine cabinet and clean it out; throw away expired products and empty bottles
Remove cobwebs and dust from the ceiling
Clean windowsill and glass panes
Deep clean toothbrush holder and soap tray
Clean out vanity and reorganise contents
Clean the mirror
Wipe down bathroom fittings including racks and towel holders
Scrub bathtub or shower area to remove grime build-up
Clean underneath sink
Wash out sink and wipe down faucets with disinfectant wipes
Wipe counters
Deep clean showerhead
Scrub wall tiles
Dust light fixtures
Clean toilet bowl interiors and exteriors
Replace or scrub shower curtain to remove bacteria and prevent mould/mildew
Clean glass shower door
Scrub tile grout and wash the floor
Launder bathroom rug/mat
One of the most important things to remember when spring cleaning your home is to take as much time as you need to complete each task efficiently. Without a realistic time frame and schedule, checking off all the cleaning tasks on the lists above will be impossible. More importantly, spring cleaning will wear you completely if you don't give yourself enough time to do it. With that said, MaidForYou advises cleaning 1-2 rooms per day or simply taking the easy way out by booking our professional spring cleaning service in Sydney!
We're Committed To 200% Customer Satisfaction Each And Every Time
If you're not happy with our work, we make it right!